Special Offer
USA: Free Shipping Over $90 | CAN: Free Shipping Over $150 | International: Free Shipping Over $200
FREE Shipping for orders $90+ (US)
"From Sick to Superhuman: The Biological Optimization
Blueprint" FREE for orders $150+
FREE BONUS GIFT for orders $400+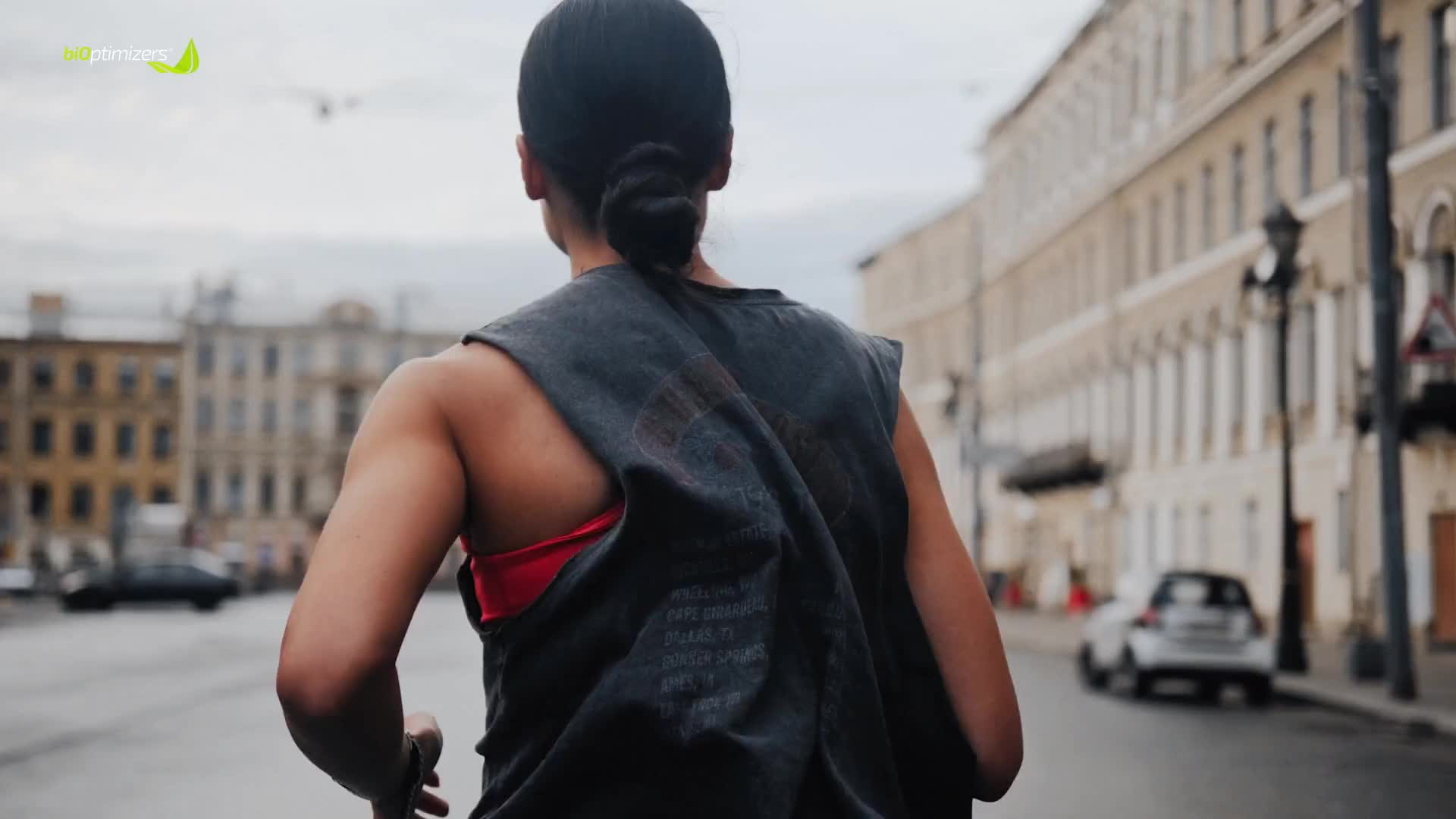 ▶
Optimize Your Protein Intake And Fitness Goals With The Most Delicious And Effective Plant-Based Meal Replacement Ever.
Lower your grocery bill with the perfect "on-the-go" healthy, organic*, low-glycemic, high-protein meal replacement.

Gotta sweet tooth? Love chocolate? Satisfy your chocolate and sugar cravings GUILT-FREE while experiencing awesome health benefits… Protein Breakthrough is a plant-based protein blend that's been 17 years in the making that hits all the notes: mind-blowing taste, smooth texture, and an optimized nutritional profile.

Supports your lean muscle with the perfect plant-based protein blend ratio of: pea protein, hemp protein, and pumpkin seed protein.

Lowers your NET calories by replacing some of your calories with high quality protein. WHY? Because your body uses 30% of the protein calories it ingests through the digestive process. The result? It makes it easier to lose body fat.

Lowers your food cravings and helps reduce hunger throughout the day. The fiber and protein help satiate you and make you feel satisfied. Another key benefit that will help you with your weight loss goals.

Promotes a healthy digestive system and gut biome because it includes insoluble fiber that supports your digestion and helps create awesome, smooth bowel movements.

Vegan, low-carb, low-glycemic, soy-free, and gluten-free

Loaded with essential amino acids using a balanced combination of proteins to help you: recover faster from workouts, preserve your lean muscle, and burn fat.
*The percentage of organic ingredients in Protein Breakthrough Chocolate Bliss is 97.375%
Protein Breakthrough Questions:
What is the best time of day to take Protein Breakthrough?
Option 1: The body responds best to consistency. Try to take it at the same time: first thing in the mornings.
Option 2: You want to use it at a time that is most convenient for you, where it's not convenient to make a regular meal, ie: when you're traveling on the road or you don't have time to get a healthy food choice.
Option 3: Before you go out to a restaurant. If you want to stay healthy, keep your appetite satiety high. if you don't eat beforehand, you get hungry and you tend to overeat the bad things.
How many times a day can I take Protein Breakthrough?
You want to use as much real food as possible. The good news about Protein Breakthrough is that it is "real food". However, it's still a refined protein powder.
Ideally, you want to take Protein Breakthrough between one and three times a day. For most people, once a day is definitely good. People who are training a lot or traveling a lot, twice a day. And in extreme conditions and for limited times, three times a day.
You want to regulate based on your dietary intake.
Can I take Protein Breakthrough while pregnant?
Before starting any new product, you should always consult with your medical practitioner. When you're pregnant, you always want to check if there's anything in the formula that could potentially interact with a medical condition that you have or a medicine that you are taking.
Protein Breakthrough is real food, therefore, I don't think there's any problems with this particular formula and I think you're going to be safe. However, always check with your medical doctor and medical authority first.
Can I take Protein Breakthrough while breastfeeding?
Of course. The seed proteins, plant proteins, and good fats, and amino acid profile inside Protein Breakthrough is beneficial for women who are breastfeeding.
A lot of women will find this to be a really healthy chocolatey treat. You can make cookies, muffins, eggs… You can check out our cookbooks around it. It's really, really awesome. It's also quick and easy. If you're nursing, you don't have a lot of time and here is a simple, healthy, tasty treat that you can make that is good for you and your baby.
For best results, should I take Protein Breakthrough before or after working out?
For ultimate results, mix it and sip it through your workout.Evidence shows that if you are consuming a product during your workout, the amino acids start to go to repair immediately. I recommend taking MassZymes and P3Om in combination with Protein Breakthrough to help break it down and digest it.
However, it comes down to individuality. Some people that can't eat several hours before workout or they'll get sick.
For post-workout, waiting 30 to 60 minutes after workout, when your body has calmed down. It's best to get your body into a rest and relaxed state first.
Can I take Protein Breakthrough on an empty stomach?
Absolutely. First thing in the morning when you get up, you can take all your nutritional supplements along with Protein Breakthrough on an empty stomach, It only takes a few minutes and you have a full, healthy meal of natural goodness: all the proteins, essential fatty acids, vitamins, minerals, enzymes, probiotics… everything.
Can I take Protein Breakthrough while fasting?
Fasting is categorized in a variety of different ways: a limited fast which means that you might be on liquids, a fast where you're restricting certain foods, a juice fasts, a water fast, an alternate-day fast, and time restricted fasting.
If you're on a time-restricted or alternate-day fasting, you can take Protein Breakthrough. If you're on a strict water fast or a strict juice fast then you would not take Protein Breakthrough. However, a lot of people do find it's a great way to come out of a liquid fast because it's easy to digest, it's made from plants. and it tastes amazing.
Is Protein Breakthrough safe for children?
Absolutely. A lot of kids like it with frozen bananas, with almond milk, macadamia milk, or your favorite nut milk. It becomes very thick and creamy, kind of like an ice cream shake. You can mix it into a bowl, like a chocolaty soup that's healthy and good.
A lot of moms really love that they can give their kids that super chocolaty experience that's healthy and training their kids that food can both be healthy for you and tastes good.
How should Protein Breakthrough be stored?
Store in a cool, dry place.If you live in a very humid environment, such as Central America, the tropics, or Hawaii, I recommend storing all of your supplements in a humidor (like the ones for cigars).
These types of places have a high density and anytime that you open the product, you are exposing it to air, moisture, and high temperature which erodes the natural proteins inside.
Can I take Protein Breakthrough while using other supplements?
Yes. The exceptions are Nootropics and if your supplements specifies to take on an empty stomach
Nootropics are cognitive enhancers, like our new brand Nootopia. The protein can offset the cognitive benefits that are created by the unique sets of amino acids inside the nootropic formulas.
I follow a vegan diet, can I take your Protein Breakthrough product?
Yes, you can. And as a vegan, you can check all the ingredients on the back and you'll find that there are absolutely no animal-based products and no animal derivatives. It's vegan friendly, soy-free, gluten-free, and dairy-free.
I am a type-2 diabetic, does Protein Breakthrough have hidden sugars in it that could spike my insulin levels?
Inside Protein Breakthrough, there's a total of four grams of sugars. Of those, three grams are naturally occurring sugars: monk fruit, erythritol, and coconut sugar. One gram is an added sugar: stevia.
We used all of these additive sweeteners since traditionally they are handled much better by diabetes, they won't cause sugar spikes. However, you should still check to make sure because you might have some issues with one of these sweeteners and causes an insulin spike.
I am trying to lose weight. Is it okay to drink the Protein Breakthrough in place of my normal meals for the day? If so, how many times per day can I use it as a meal replacement and for how many days?
Yes, one to three times a day if you're on a meal replacement.
Option 1: The body responds best to consistency. Try to take it at the same time: first thing in the mornings.
Option 2: You want to use it at a time that is most convenient for you, where it's not convenient to make a regular meal, ie: when you're traveling on the road or you don't have time to get a healthy food choice.
Option 3: Before you go out to a restaurant. If you want to stay healthy, keep your appetite satiety high. if you don't eat beforehand, you get hungry and you tend to overeat the bad things.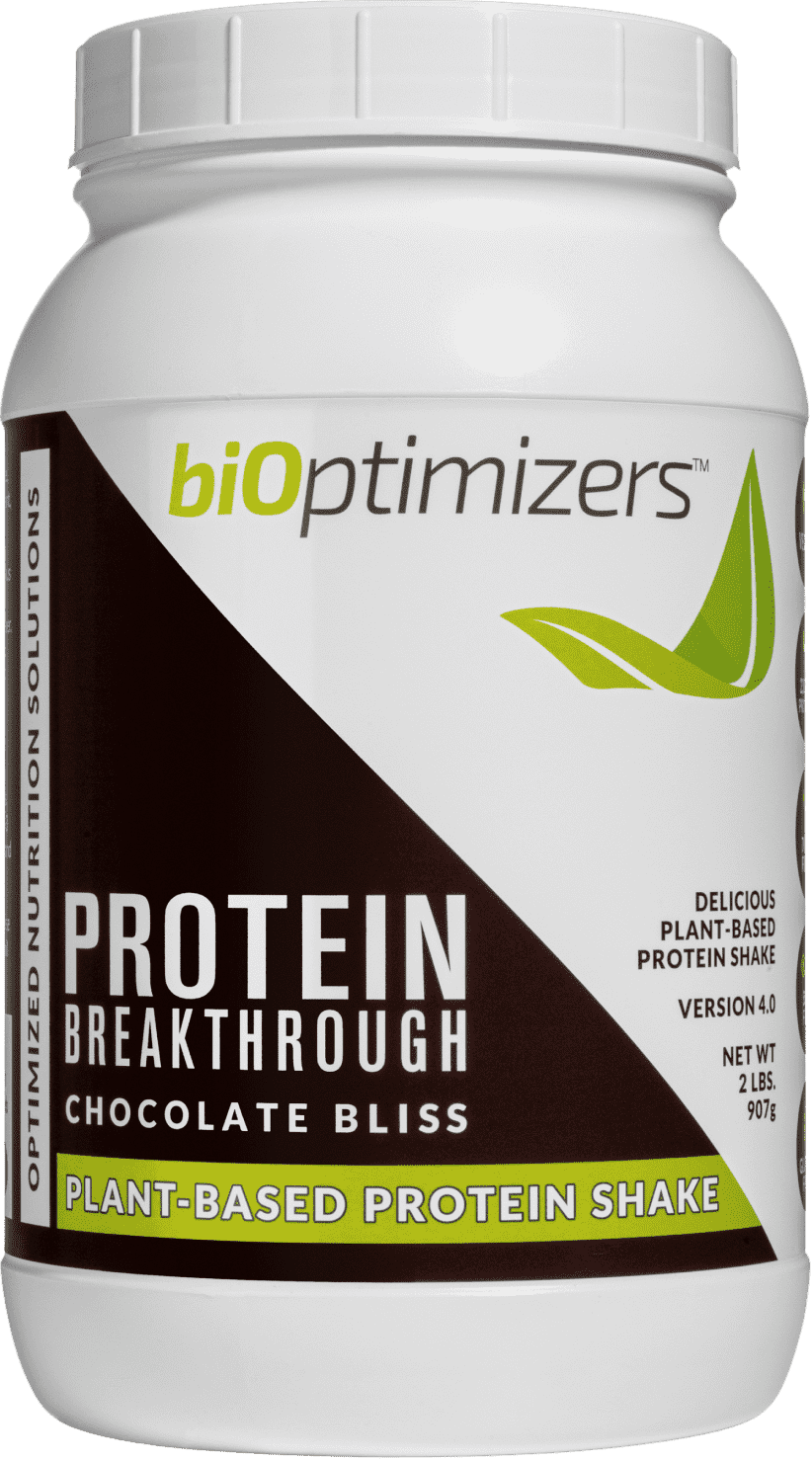 Product Information
Product Dimensions:
Cap diameter: 4.60 inches
Bottom diameter: 5.5 inches
Height: 10 inches
Weight: 2.42 pounds
Caution:
In the unlikely event you experience any adverse side effects while using our products, call us toll free at: (+1) 800-719-2467
Protein Breakthrough - 365-Day Money Back Guarantee
All BiOptimizers products come with a 365-Day1 Year Money Back Guarantee. If you're not completely satisfied, simply email or call in and our customer obsessed team will gladly take care of all your concerns.
BiOptimizers is dedicated to providing you the best customer service experience in every step of your customer journey. We are proud to be recognized for our customer obsession.
Why BiOptimizers Is A Different Kind Of Company
BiOptimizers Was Born From Pain And Passion.
Wade's passion and mission for helping others optimize their health started when he witnessed his 23-year-old sister pass away from cancer. It was a heart-breaking experience that shaped his destiny. That's when he realized that health was the most precious asset we have in this life.
Matt's passion and purpose for helping others started when he helped his best friend lose 191 lbs in 18 months. He watched his friend's entire life transform as a result. He went from never having a girlfriend to being married in just a couple of years.
Wade Lightheart
President
Matt Gallant
Chief Executive Officer
Wade and Matt were both trainers working with pro athletes and other high performers. They both spent a decade in the gym helping people transform their health. Wade and Matt met in the gym, struck a friendship and then started a business partnership that has been going strong since 2004.
That's right, we started selling fitness programs, digestive enzymes and organic plant-based protein in 2004. Our obsession to build the best-in-class formulas and solutions just gets stronger. Our policy is, "If we can't build the best product in that category, forget about it."
We're willing to go ALL IN on the formulas. What does this mean? Our average cost per bottle is 200% to 400% higher than most of our competitors. We use the optimal, effective doses of the most researched ingredients. We know that once you experience the results, you'll be a fan of BiOptimizers for life.